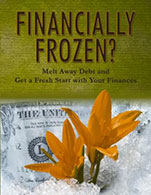 Financially Frozen
Overview
Features
Tech Specs
Reviews
If you're tired of struggling with debt, or you simply feel like you could handle your money better, Financially Frozen can help you make positive changes with your money. You'll learn why financial goals and a budget are the keys to getting ahead. You'll learn how to improve your credit, get out of debt and protect yourself and your money. Financially Frozen makes your finances easy to understand, so you can stop feeling stuck and start living the life you want.
Learn how to define your goals and values. Your values have a big effect on your finances. By figuring out what's most important to you, you can spend and save for the things that will bring you the most satisfaction. You can set financial goals. For example, if you like adventure, you may want to save for a trip overseas. If you value a comfortable home for your family, you might want to save for a remodeling project or a new couch.


Learn to develop a budget that can get results. You'll learn to create a budget that really works, because it fits your needs and lifestyle. Your budget will also incorporate your financial goals. You'll be able to see every month how you are working toward your goals.


Understand your credit report and credit score. Wherever you are in your financial life, your credit is important. Credit is a financial tool that can benefit you. When you learn to use it carefully, it can enhance your life.


Learn about contracts, leases and insurance. Contracts are everywhere; find out what you should know before you sign one. Financially Frozen will help you become an educated consumer.


Protect yourself and your money from scams. You'll get tips for spotting scams, and how to report them. You'll learn about consumer laws, websites and the Consumer Financial Protection Bureau that exist to


Internet Explorer 10.0 or above


Internet Access


Windows 8 or above


E-mail account


Java Script should be enabled


Cookies should be enabled
I never realized how important a budget really was.
I wish they taught this stuff in school.
It's so simple to follow along. Just what I needed.