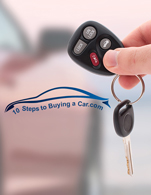 10 Steps to Buying a Car
Overview
Features
Tech Specs
Reviews
WE LOVE OUR VEHICLES
As Americans, we love our vehicles. We remember our first vehicles and our favorite vehicles. We remember the ride we drove in high school or college. In reality, most of us can recall every auto we have ever driven. For some of us, our car or truck is a friend that we name. Our car is something we use to transport people and pets we love and care about as well as go on adventures to new and exciting places. For some of us, our cars become our hobbies, working either on or through racing. Cars are a part of our American life.
When we buy a car, we want a good deal ... even a great deal on a reliable car. We want to be treated fairly and to receive good financing. This does not just happen. One car dealer is not going to tell us the other dealership is having a sale. A financial institution is not going to tell us to check out the financing at a different financial institution. Finding the best deal takes work on our part before we ever start looking at cars at the dealership.
10 Steps to Buying a Car will take you through all ten steps to buying a car that will leave you feeling good financially and getting a car you love.
STEP ONE: DETERMINE WHAT PAYMENT YOU CAN AFFORD
STEP TWO: KNOW HOW MUCH TOTAL DEBT YOU CAN AFFORD
STEP THREE: KNOW YOUR CREDIT REPORT DETAILS AND CREDIT SCORE
STEP FOUR: VISIT A LENDER
STEP FIVE: DETERMINE WHAT DO YOU WANT IN A CAR, TRUCK, OR SUV
STEP SIX: SHOP FOR THE CAR OR TRUCK YOU WANT
STEP SEVEN: NEGOTIATE THE DEAL
STEP EIGHT: FINANCE THE DEAL
STEP NINE: INSURING YOUR PURCHASE
STEP TEN: FINALIZING THE FINANCING
Internet Explorer 10.0 or above


Internet Access


Windows 8 or above


E-mail account


Java Script should be enabled


Cookies should be enabled
I learned so much from this program I don't know where to begin.
It's so simple to follow along. Just what I needed.
I thought I already knew it all. I was wrong.